On March 22-24 2002 the 27th attended the Seige at Bridgport reenactment in Bridgeport, AL. This was a great event this year. It was my second year in attendance and I was impressed how much it had improved since last year. The members of the 27th Alabama there were Maj. Kevin Gray, Sgt. Bobby Joe Killen, Cpl. Mark Waddell, Matt Beard, Cody Glover, and Josh Wilson. Privates Tom Cogbill and Tim Williams were also there on Saturday.
27th Alabama Around Camp at Bridgeport
After a great breakfast Saturday morning (thanks Mark and Sarge) we were ready for company and battalion drill. For those of you who've never been a part of a battalion drill, there's nothing like it. It went well and we learned quite a few new things. It's fun to watch 5 companies come together as one on something after going through it a few times.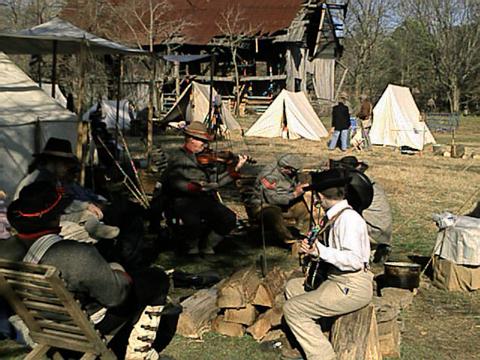 A Little Pickin' and Grinnin'
Now onto the good stuff. Saturday's battle left the Alabama company in shambles. We fought valiently but the odds were against us and many of the company were killed. We marched to the battlefield Sunday missing some of our pards but with victory on our minds. We went out there and whooped those Yanks till they were bluer than before, if that's possible. What few Yanks weren't killed or wounded were seen high-tailin it northward. Hope to see you on the field of glory.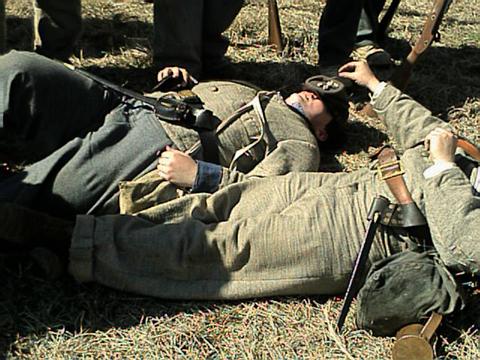 Cpl. Waddell Up To No Good As Usual