27th on Front Porch of Carnton House
The Battle of Franklin
My Dear Ones,
Atlanta has been burned to the ground and our supply wagons were destroyed as we made our way out of the city! Now Gen. Hood plans to take Nashville, he said we would only fight on ground of our choosing and we are sure to be victorious. Well, I guess I'm about as prepared as I'll ever be, but something tells me we're going to play hell in Tennessee.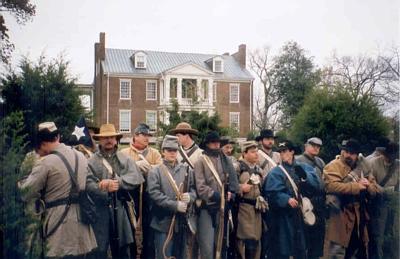 27th in ranks in front of Carnton House
While the engineers were laying the pontoon bridge at Muscle Shoals I managed to convince the Col. to lend me his horse. I whipped him good in cards last week and he wanted badly to clear his debt. It cost me almost $3.00 but my trip to the Alsup's was well worth every cent. I had the best meal that I have seen in almost a year but the best part was that Mrs. Alsup had made me a wonderful new great coat and mother had sent me a new quilt. No words could fully express my gratitude to these dear ladies for ol' man winter seemed ready to howl. As I road back to camp the sleet and the snow set in hard and I almost felt guilty as I rode past three company's who did not even have shoes.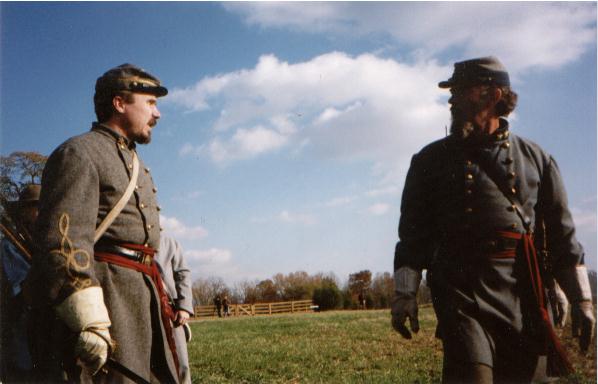 Maj. Gray and Col. Smith Conversing Over the Battle Plan
Oh, how I have missed you all and my beloved shoal creek bottoms and Tennessee hills. But marching into Tennessee is bitter sweet because this army has almost forgotten the word furlough and I can only imagine how much my kids have grown. I wonder if they would even recognize me now? Oh please tell them their father loves them dearly and wishes badly to see them. But many a brave solider has already given the last final measure for the great southern cause and even though my heart is sick with grief and my body badly worn, I will march on. Almost four years of agony has not tarnished a cause that one hundred years or even more shall never extinguish.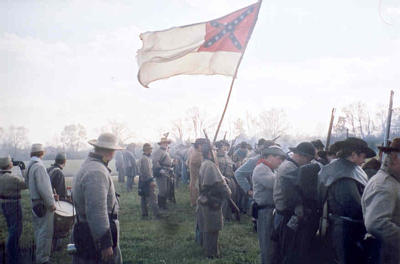 27th's Flag in Battle of Franklin
General Forrest and his Calvary have given the Yankee's fits as we reach Spring Hill, Tennessee. We have marched pel mel for days through the ice and the snow in hopes of trapping Schofield's 23,000 federal troops. But the great battle of Spring Hill was not to be, because Schofield and his men somehow managed to make it past us in the night. In the morning we were hot on their trail again heading toward the fortified city of Franklin. Cheatham & Stewart's corps were leading the way and Lee's corps were bring up the rear with our artillery. All day long the Generals have been quarrelling with each other about missing Schofield at Spring Hill. In all we number nearly 30,000 strong and now even the ground trembles as we march after them. Gen. Hood is in an ill mood and seems determined to fight here regardless of the Federal breastworks, parapets and batteries. Did he not see what happened to Sherman when he ran head long into our defenses at Atlanta? Many others and I have seen their lines of defense and this time I fear the death angel is coming for us all.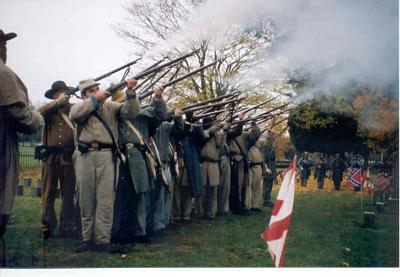 27th fires salute to Alabama boys in McGavock Cemetery
At 4 pm the order to advance echoes down the lines and like a finely tuned machine nearly 20,000 men step forward as one. Oh the spectacle of it all, it was as grand as anything I have ever seen! As we marched forward, all hell exploded in our faces. The Federal batteries seem to hit us from every angle. Even a blind man could not help but to hit our ranks with every round of double and triple load canister shot. And yet, our boys go forward yelling and screaming like the devil! As we closed in on their lines the Yankee's raise their muskets and fired. Entire companies fell like blades of grass in the field. 10,000 guns could not conceal the screams of the wounded and the moans of the dieing. It seemed to me that no living thing stood a chance in such a place. And still we go forward. As if the hell of all this was not enough now we could not even retreat! We were trapped in the valley of death for what was more than two life times and the carnage was unimaginable. Our company's color barer fell again and again till finally I grabbed our glorious flag and ran it all of the way into the parapet, but it did little good for we were already shot to hell.
Respectfully Yours, Private Andrew Noblit 27th Alabama CSA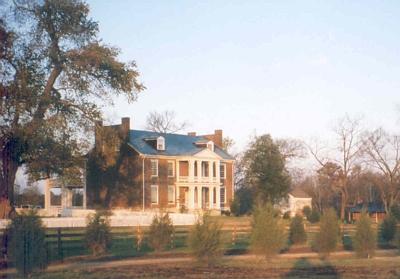 Carnton House at Sunset