Recall LaGrange
by Ben Carpenter
May 17
Today our company was ordered from Tuscumbia toward Leighton. During the early afternoon we were ordered to halt and then sent to LaGrange. The town had a population of approximately 500 but, due to the effects of the war, is now virtually uninhabited. The company fixed camp and was warned of an impending Federal skirmish party headed in our direction.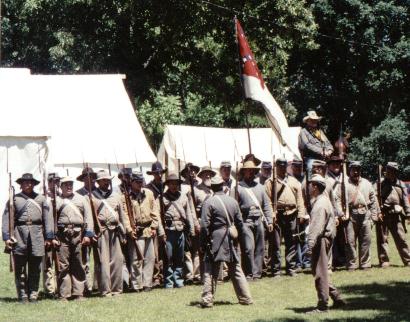 27th Alabama, FALL IN!
May 18
Today the company broke camp and was ordered to fall into a line of battle at 12:30 p.m. We were informed that a company of infantry and 2 artillery pieces were all that stood between the destruction of the college and the town. We knew that the odds were not in our favor as we marched toward the field of battle. However, we took the field that day and captured two artillery pieces and about twenty prisoners. We felt fortunate that we had halted the advance of the Union army.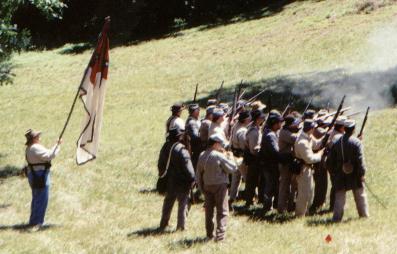 27th Alabama Keeping It Hot!
May 19
Today we were informed that another party of raiders had been sent out to destroy the college. We were informed that this party was twice the size of the one we defeated and consisted of mostly dismounted troopers. The enemy positioned their field artillery along a ridge and we were ordered into position behind two Confederate artillery pieces. The battle that ensued was horrendous and the casualties were staggering. A parlay was called and our Major refused to surrender his command. We attempted a futile charge toward the Federal position, only to be exposed to their artillery fire and then fall victim to their troopers and infantry. Most of our command never made it back to their original position. Only our colors escaped. All of our officers were killed and only about 3 infantrymen and I, the bugler, were taken prisoner. The gallant deeds of our company will live on and we will fight another day.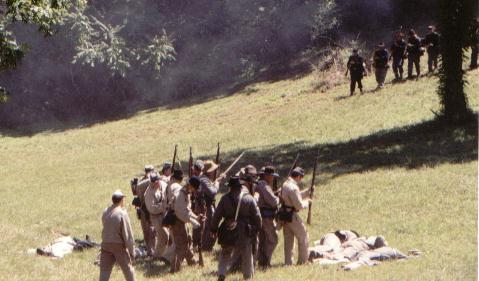 Our Boys Fought and Died Valiently