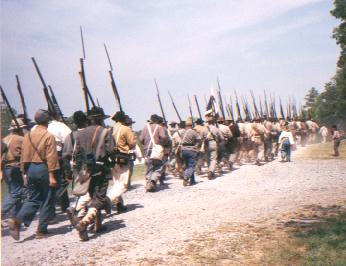 Confederate Marching into Battle
This event has become a regular one for the 27th Alabama over the past few years. It was looked forward to this year by those who have been and for the first-timers. We traveled down on Friday afternoon to set up camp and get ready for the following day's activities. Saturday morning after breakfast the battalion formed in the main field. After a short drill we broke ranks and some wandered down to the sutlers to look around. About 2:00 the battalion was reformed for the day's battle. The yanks were hiding in the woods on the other side of the field and we were about to go get them. We marched straight across the field with cannon and musket fire tearing through our ranks. Finally with a rebel yell we broke the yanks line and won the day.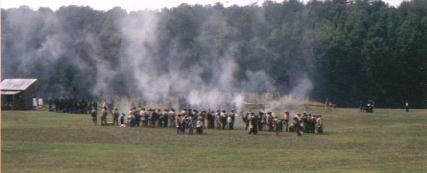 Confederates Pushing Back the Line of Yankees
The following day we woke to a beautiful morning. Everything was going fine until we found we were going to have to be Yankees for the day's battle. Naw, there is a little exaggeration there. We don't really mind putting on the blue, but that don't mean we gotta like it. After we had all donned the blue coats we went marching across from the other side of the field this time. We were headed for the Confederate fort and we were bound to take it. After some fierce fighting in the field we finally made it to the fort and took it along with a few Reb prisoners. After all the fighting was over, both sides joined together for a salute. This was a salute to the victims of 9/11/2001 and to our military, police, firefighters and all other public servants. Tunnel Hill was a great event this year as it has been for the past years. We're all looking forward to going to Georgia next year.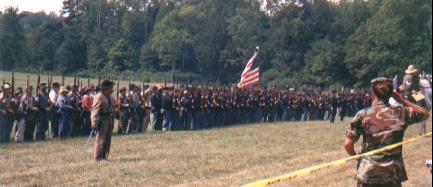 Confederate and Union Join For a Salute